Most of the world uses the international standard paper size A4 for printing needs, but many designers of wonderful patterns have US Letter at their disposal. If they don't design for both formats, how can you print a US Letter template onto A4 paper?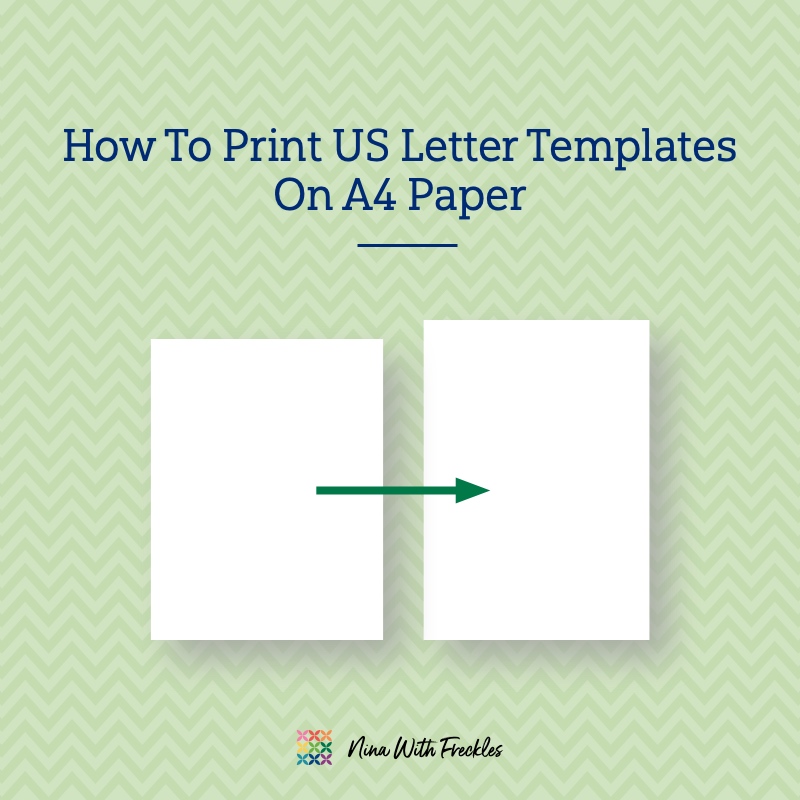 A Size Comparison
Before jumping into the technical stuff, here is a quick comparison of the two paper sizes:
A4 is 210 x 297 mm or 8,27″ x 11,69″.
US Letter is 8,5″ x 11″ or 215,9 x 279,4 mm.
This means A4 is taller and US Letter is wider.
Printer Settings
There are numerous printer brands on the market, so settings will vary accordingly. The general idea, however, should be replicable on all.
What you want your printer to do is have it think it's printing on US Letter despite feeding it A4 paper.
How to print:
Put A4 paper in the tray.
Choose US Letter in the printer settings.
Choose "print at 100 %" as well.
If the designer has put printable material close to a margin of the US Letter paper, here's what can happen:
Design close to top of page will print normally since A4 is a taller paper.
Design close to left or right side of page may disappear since A4 is a narrower paper.
The reverse happens on US Letter when a designer uses A4 paper only.
Pro Tips For Pattern Designers
For this reason it is great customer service to create PDF patterns in both formats. You ensure all your customers will have a smooth experience when engaging with your patterns.
When designing it's good practice to stay away from all edges, so the only thing you must do, once all pages on your own paper size are ready to be recreated on the other paper size, is to copy the content and paste it onto that paper.
It really isn't more difficult than this, but the message it sends to potential customers is that you care about inclusion.
And how do you sell it in your webshop? On WordPress in WooCommerce there are Variable Products available. The standard setting is Simple Product, but here you want to create a unique (for this product only) attribute for paper formats, which you then use as basis for the variants. This creates a drop-down menu on the product page so your customer can choose the relevant format.
Investing this way in Customer Experience is a fabulous way to grow your customer base internationally. Anyone around the world can buy digital patterns from you then with product fulfilling their own printing needs, so if your local market is experiencing a hiccup you can ride out the storm with fewer scratches.
The Nifty Test Square
Most designers put a test square of 1″ size on their template pages, so before printing all of them, test with one page only, then measure the square. If it is the correct size, print the rest—with the exact same settings.
This testing with one page only is good practice even if the pattern output is A4 and your paper is A4, or US Letter output and US Letter paper correspondingly. Sometimes default settings change mysteriously and what was supposed to be "print at 100 %" becomes something less.
Choosing "fill paper entirely" is no guarantee either, as somehow it can be relative to the printable area (including margins) rather than the paper outline itself.
And of course printers behave differently, so if you have an ink jet as well as a laser jet like I do, double-checking settings for the printer in question is necessary each time.
Conclusion
I hope this quick tip has  helped you if you've been hesitant to buy American patterns before. There's no need to keep yourself from making something when you have this little trick in your toolbox.
Have you tried  buying digital patterns online yet?